Biala Orhtopedic Hospital at Amritsar established and started by by late Shri Hira lal Biala in 1940 .
Later in year 1965 Dr.Baldev raj Biala started Ayurvedic Wing. He is practising for the last 45yrs, chronic diseases of bones and joints and has treated number of patients sucessfully.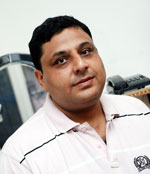 In year 2000 orthopedic wing is established and is headed by Dr.Ravi Krishna Biala (M.O.B. M.S. ORTH) and have done A.O Advance course. He is a life member of Indian Orthopedic Association & Life member of IMA.
Our Orthopaedic department is equiped with C arm operation theater, X-Rays, Latest labs, Physiotherapy wing, Short wave diathermy, Ultrasonic diathermy, Attraction machine, cervical lumbar spine, CPM, Muscle stimulator & .Medical Store. The services offered by biala hospital includes Inter locking of fracture bones, Total Hip Replacement, Total Knee Replacement, treatment of all types of fractures with plates, osteosynthesis, nails, external fixation of fractured bone with fixator, bone debridement with pulse lavage system, treatment of prolapsed disc with minimum cut surgery, treatment of rheumatoid arthritis, osteo arthritis, poliomyelitis and arthroscopy repair of ligaments with microscopes